Integrative Medicine
Integrative Medicine is the practice of medicine that reaffirms the importance of the relationship between practitioner and patient, focuses on the whole person, is informed by evidence, and makes use of all appropriate therapeutic approaches, health care professionals and disciplines to achieve optimal health and healing.

– Developed and Adopted by The Consortium of Academic Health Centers for Integrative Medicine, May 2004. Edited May 2005.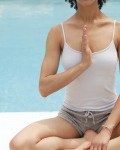 Practitioners of integrative medicine recognize that health is more than the absence of disease and that a multi-disciplinary approach to medicine often provides the maximum therapeutic benefit.
Dr. David P. Sniezek is an integrative medical practitioner with the following designations: Medical Doctor, Doctor of Chiropractic, and Medical Acupuncturist. Dr. Sniezek is a pioneer in the newly developed field of integrative rehabilitation medicine and has been recognized as a Washingtonian Magazine "Top Doctor" in Rehabilitation Medicine for over 15 years.
Unlike some integrated practices (with many providers sharing one office), Dr. Sniezek is an integrative health provider trained in multiple disciplines. This saves you time and money, not to mention the distinct advantage of being able to benefit from this combined knowledge, skill, and experience in one visit!
Integrative medicine combines the discipline of modern science with the wisdom of ancient healing. For people living with chronic or life-threatening illnesses, integrative medicine and rehabilitation can transform the physical, emotional, and spiritual dimensions of their lives. Integrative treatment may also be valuable to those who are not ill but wish to increase self-awareness, enhance well-being, and help prevent health-related problems.
In treating disease, complementary integrative therapies are not substitutes for mainstream medical care; they are used in concert with medical treatment to help alleviate stress, reduce pain and anxiety, manage symptoms, and promote a feeling of well-being.
Dr. Sniezek is a Diplomate and Fellow of the American Association of Integrative Medicine.